When you are remodeling the kitchen, you are creating a space for the entire family because everyone in the house will use this room every day. If you are considering upgrading the cabinets in your kitchen, keep reading to discover three reasons why you need custom cabinets from The Cabinet & Granite Depot.
Match Your Style
The kitchen is one of the main rooms in the house because it is used for entertaining, and the entire family comes together to enjoy meals. You want this room to match your style and flow with the rest of your home. Our custom cabinetry is ideal for you because you are able to match your style with luxurious cabinets.
Customize the Layout
When you need additional space or want your cabinets to go in a particular place, you will love our custom cabinets because you can decide on the layout for your kitchen. You understand what your family needs for cabinet space to function, and we are here to make it a reality.
Various Color Options
From different shades of grays, whites, and woods, you will be able to create the ideal kitchen based on your custom cabinets.
Call our team at (513) 874-2100 for additional information about cabinets in Cincinnati, Ohio.
Are you considering upgrading your bathroom or kitchen countertops in Cincinnati, OH? Do not wait another minute to come into our showroom for elegant natural stone for your home. Discover three reasons why people throughout Cincinnati are visiting our location.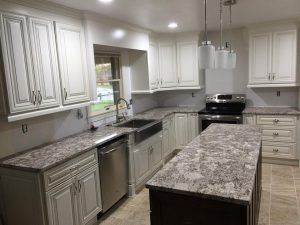 Varied Selection
Fill your space with granite or quartz countertops when you turn to our team. With our vast array of natural stone countertops, you are sure to find one that matches your style for your renovation.
Experienced Team
Whether it is your first remodeling project or your 51st project, you can rely on our team when you have questions about specific products and processes. All of our team members are knowledgeable when it comes to our selection of countertops.
Affordable Pricing
When it comes to renovating your countertops, whether it is in the kitchen or bathroom, you probably have a budget that you want to stick too. Our team members will help you select the ideal piece of granite or quartz in your price range to make a statement in your new space.
Now is the time to make a statement with stunning countertops in your kitchen and bathrooms. Give us a call at (513) 874-2100 to speak with a team member about your upcoming project.